"MY 2000 SUMMER VACATIONS"
SOLAR CAR
THIS YEAR'S BREAK WAS THE BEST I'VE EVER HAD IN MY WHOLE LIFE! I DIDN'T EXPECT SO MUCH FUN AND ENTERTAINMENT.
IT ALL STARTED WHEN SEVERAL HIGH SCHOOL FRIENDS AND I FINISHED A SCHOOL PROJECT THAT WE STARTED BEFORE WE GRADUATED: THE DESIGN AND CONSTRUCTION OF A SOLAR CAR. WE WORKED FOR TWO MONTHS, FROM 9 AM TO 9 PM. TWELVE HOURS OF HARD WORK AND JUNK FOOD. OUR EATING HABITS CHANGED FROM HOMEMADE FOOD TO BURRITOS AND TACOS IN PLACES YOU CAN NEVER IMAGINE. THEY WERE REALLY BAD. BUT, EVERYONE HAS TO SACRIFICE SOMETHING SO YOU CAN ACCOMPLISH THAT GOAL YOU WANT TO REACH.
AFTER FINISHING BUILDING THE CAR, WE WENT RACING TO DALLAS, TX. WE DIDN'T ACTUALLY TESTED THE CAR, UNTIL ONE DAY BEFORE DEPARTING, BUT IT WORKED. ANYWAY, AFTER ARRIVING TO DALLAS, WE WERE WELCOMED BY DR. LEHMAN MARKS, THE HOST FOR THE ANUAL EVENT: THE WINSTON SOLAR CHALLENGE.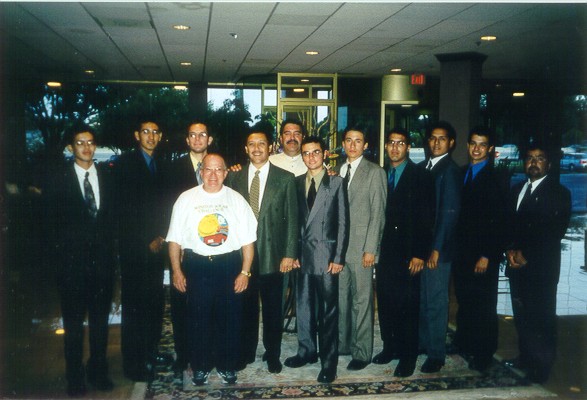 WE LOOKED NICE, HUH!
WELL, THE RACE CONSISTED IN WHICH TEAMS RAN FOR MOST LAPS AT THE TEXAS MOTOR SPEEDWAY (NASCAR RACING). THERE WERE TEAMS FROM NEW YORK, INDIANA, SOUTH CAROLINA (BMW WAS ONE OF THEIR SPONSORS), SAN ANTONIO, FLORIDA, MISSOURI, DALLAS, AND US (THE FIRST INTERNATIONAL TEAM TO ENTER THE RACE).
I'M NOT GOING TO TELL YOU EVERYTHING ABOUT THE RACE, 'CAUSE YOU PROBABLY WILL GET MORE. FOR MORE DETAILS AND INFORMATION, VISIT WINSTON SOLAR CHALLENGE
WHERE YOU'LL FIND EVERY SINGLE DETAIL. BUT FIRST LET ME SHOW YOU SOME PICS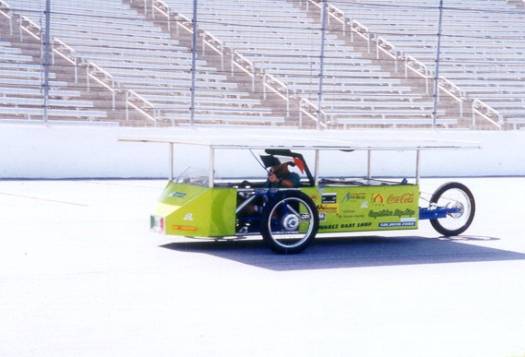 FINAL LAP AT THE SPEEDWAY. LOOKS NICE HUH.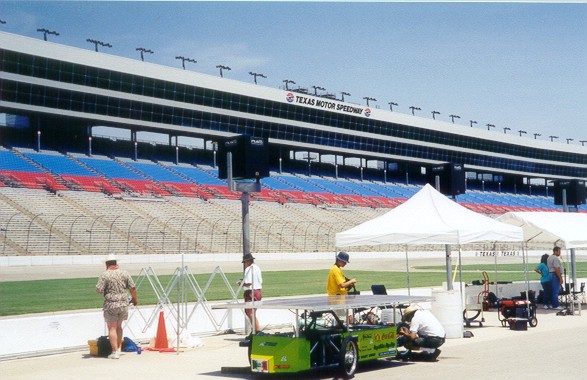 WE HAD A PIT, BUT NO TOOLS.
(TOOLS WERE AT THE GARAGE)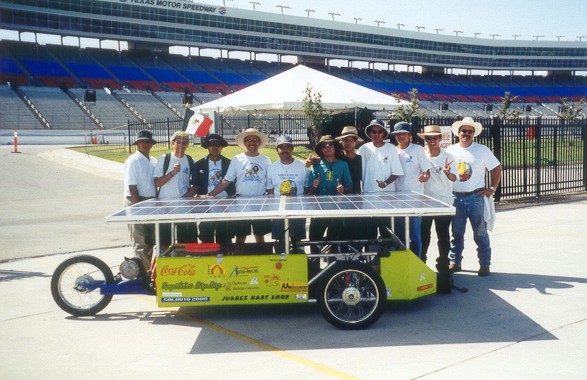 THE 2000 CHAMIZAL HIGH SCHOOL SOLAR CAR TEAM
DREAM THEATER
DREAM THEATER IS ONE OF THE BEST MUSIC BANDS THAT EVER EXISTED. I AM PRETTY SURE MOST OF YOU HAVE NOT HEARD ABOUT THIS BAND. WELL, THEY ROCK. JAMES LABRIE, MIKE PORTNOY, JOHN PETRUCCI, JOHN MYUNG AND JORDAN RUDESS, MAKE THE BEST MUSICAL BAND IN THE WORLD. THEY ARE MASTERS AT THEIR RESPECTIVE INSTRUMENTS (VOCALS, DRUMS, GUITARS, BASS AND KEYBOARDS). MANY PEOPLE DON'T UNDESTAND WHAT PROGRESSIVE ROCK IS ABOUT. PROG ROCK ARTISTS CREATE MUSIC NOBODY HAS EVER HEARD, THEY TELL STORIES, THEY LET YOUR MIND TAKE OVER YOU, AND THEIR MUSIC JUST HIPNOTIZES YOU. THEY USE EVERY POSSIBLE INSTRUMENT THEY CAN: FROM ACOUSTIC GUITARS, TO FLUTES, AND VIOLINS, BIG DRUMSETS, ORGANS, MIDI PERCUSSION, EVERYTHING.
DREAM THEATER ALONG WITH THEIR CREW
WELL, I GOT A LITTLE OFF TRACK OF WHY DREAM THEATER IS IN THIS SECTION. WELL, SOME CRAZY, WACKO GUY NAMED GUSTAVO RUIZ (NEXT PICTURE) CALLED ME WHEN I WAS AT THE WORKSHOP WHERE WE WERE BUILDING THE SOLAR CAR. HE TOLD ME ABOUT DT GOING TO PHOENIX (WHICH WAS THE CLOSEST DT WAS EVER GOING TO GET FROM EL PASO). HE WAS ALREADY AT MY HOUSE, SO I GOT INTO MY CAR AND WENT HOME. MY PARENTS GAVE ME PERMISSION AND OFF WE WHERE (UNTIL AUGUST 19). WE ALSO WENT WITH ANOTHER FRIEND AND GUSTAVO'S BROTHER. WE GOT THERE, THE CONCERT STARTED AT 7:00 PM AND WE GOT OUT AT 12 MIDNIGHT. THE FIRST GROUP NAMED SPOCK'S BEARD WAS PRETTY GOOD (YOU WILL SEE THEM IN A PICTURE WITH DT.) THEY PLAYED FOR AN ABOUT AN HOUR, AND THEY WERE PRETTY GOOD. THEN, THE BIG MOMENT CAME. I TOUGHT I WOULD NEVER SEE DT 'CAUSE THEY ARE IN EUROPE MOST OF THE TIME. THEY CAME ON STAGE, AND ROCKED FOR THREE FULL HOURS, AND THEIR LAST SONG WAS THEIR 23-MINUTE EPIC "CHANGE OF SEASONS". WE COULDN'T BELIEVE IT. IN FACT, WE DIDN'T UNTIL WE GOT HOME.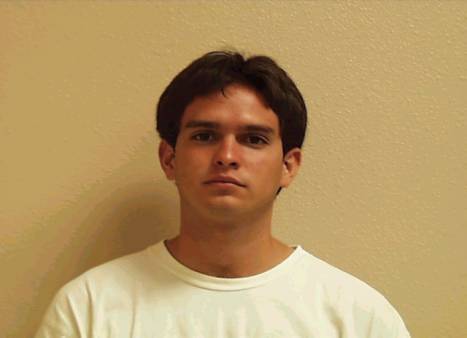 THE MASTERMIND: CRAZY WACKO TAVO
PHOTO TAKEN BY THE DRUMMER MIKE PORTNOY. WE WERE THERE!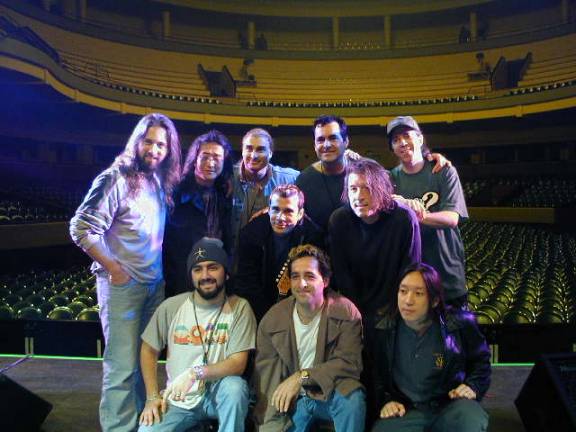 DREAM THEATER WITH SPOCK'S BEARD